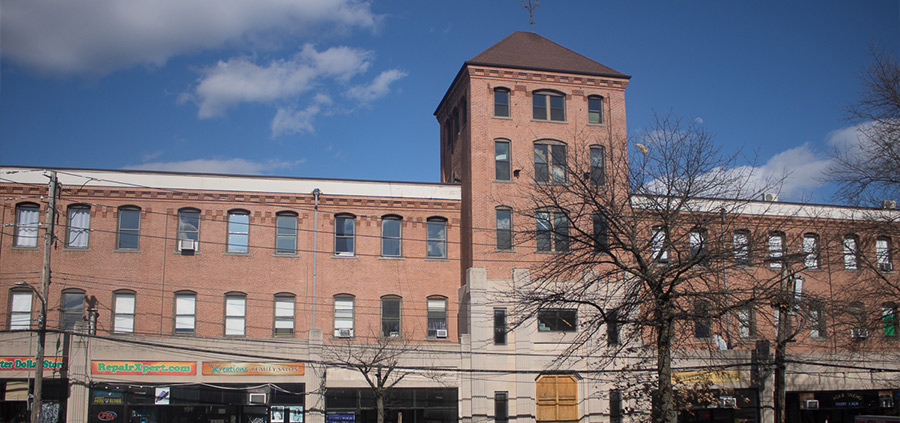 EC Wellness Private Pilates Studio is housed in the village of Port Chester's Ernest Simons Manufacturing Building, one of the largest textile manufacturing sites from 1890 to the 1940s. Today, the building holds more than 100 different small-business owners, and my neighbors include artists and architects, photographers, a dance company, upholsterers and advertising agencies. Each tenant has their own loft space with original floors, ceilings and windows.
Next door, The Life Savers Building and the Capitol Theatre (locally known as The Cap) are both listed on the National Register of Historic Places (meaning they are worthy of preservation for their historical significance…how cool is that?!) The Life Savers Building, built in 1920, served as the manufacturing facility and headquarters of the Life Savers Candy Company until 1984. Now, it is a condominium complex, where families call home. As a nod to its original use (and my love for Life Savers), any one who comes to my studio knows they can always find an endless supply of Wint O Green Life Savers.
The Capitol Theatre, built in 1926, speaks for itself. Designed by architect Thomas Lamb, the 1800-seat theater has a long history as a concert and catering hall as well as a movie theater. In the 1960s and 70s, famous musicians from all over the world played The Cap, including Bob Dylan, The Grateful Dead, The Rolling Stones and Janis Joplin. Most recently, the theater has enjoyed a renaissance due to new owner, music entrepreneur Peter Shapiro, funding a major renovation. Adding a bar and smaller showcase venue called Garcia (YES THAT GARCIA! ), The Cap hosts famous names like Blondie, Pat Benater, Billy Idol, Chicago, Neil Young, Chris Isaak, Rob Thomas, Counting Crows and Eric Clapton. It's also no surprise to see Phil Lesh and Joan Baez on the marquee.
The village of Port Chester has a motto: "Tiny but Mighty" and it is no surprise that so many small-businesses and families have chosen this mighty village to call home.
https://ericachrist.com/wp-content/uploads/2019/03/lifesaver-9.jpg
423
900
matt540
https://ericachrist.com/wp-content/uploads/2019/03/bblue-300x78.png
matt540
2019-03-21 21:22:08
2019-04-15 08:40:48
Where To Find Me